Home | The Toe Incident | Steampunk | McQueen | Backlist | Stories | Resume | Contact
The Toe Incident

My short play "The Toe Incident," which was first performed at Stage Left Studio as part of their LeftOut Festival, has won the 2020 Christopher Hewitt Award for Drama.

The award is given annually by A&U Magazine. The full text of the play is published here: The Toe Incident.
Love! Death!
And a stubbed
toe.





When you're down in the dumps and you summon your best friend back from the dead, you don't always get what you expect.












Past Productions
March 26, 2021
Spark Creative Works presented a Zoom staged reading of The Toe Incident as part of their Women's Playwriting Project.

July 16, 2018
Dixon Place presents
The Toe Incident
"The Toe Incident" was performed on a split bill with three other plays at the HOT! Festival at Dixon Place. Read more about our quadruple bill here!


Dixon Place
161 A Chrystie St. (between Rivington & Delancey)
New York, NY 10002
As with the earlier production, Simone Federman directed and Johnathan Cedano co-starred. For this new production, J. J. Pyle joined the cast, and Teresa Smith choreographed our chorus of ghosts!
April 14 and May 3, 2015
LeftOut Festival
Stage Left Studio
214 W 30th Street
New York, NY


I'm honored that Barbara Hoffman wrote about the first production (which ran under the title "Recall: The Toe Incident") in an events round-up in the New York Post. Check it out: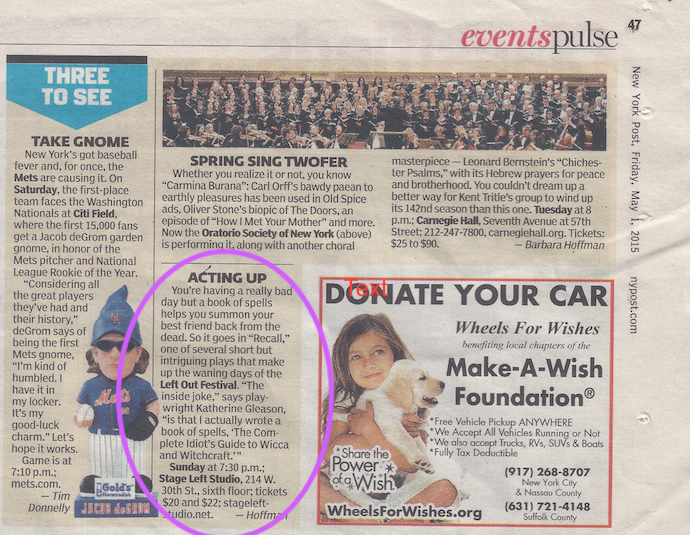 For updates, find me on Twitter.
Thanks for stopping by!